Indian Wedding Saris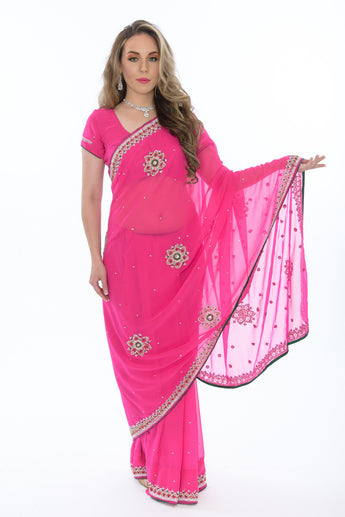 Think of Indian weddings and your mind is immediately filled with vibrant colors, fragrances and Bollywood music. The elaborate rituals and parties, the fun filled atmosphere, and the absolutely gorgeous outfits are enough to fascinate and overwhelm anyone who's not used to it! So, when you have to attend an Indian wedding, you are bound to be lost about what to wear and to which occasion? Saris and Things is here to your rescue – with perfect advice on how to dress up and look gorgeous for ...
---
Invited to an Indian wedding but don't know how to dress, what to expect or what to gift? Here's a complete lowdown on Indian wedding etiquette - to help you sail through the ceremonies and have a great time! 1. Dress & Color Code The Sari is a fabulous Indian attire that can be worn to most Indian wedding ceremonies and parties. And the best part is – it's a sensual outfit that will make you look gorgeous! You can choose saris in rich fabrics like silks or in light flowy fabrics like geo...
---
The wedding and party season is approaching and you are excited. But aren't you also struggling to decide what to wear to the next event you'd love to wear a different sari to each occasion. But your closet is full of saris you've already worn before, and you really don't want to repeat them, or this is your first Indian wedding and you've never worn a sari before. We can help! Indian weddings are known for their splendor and extravagance. Before the wedding day itself, there are several ritu...
---
Esha's wedding to gorgeous diamond merchant Bharat Thaktani was a week-long, Bollywood star-studded celebration. Check out all of the most glam pics! Below, the happy couple at their five-star Mumbai reception on Saturday, Esha wore a beautiful Rocky S lehenga in pink. Kajol was there with Tanuja and Tanisha. Vidya Balan shone in purple. Rekha came out in support of the couple.
---