Rent Designer Saris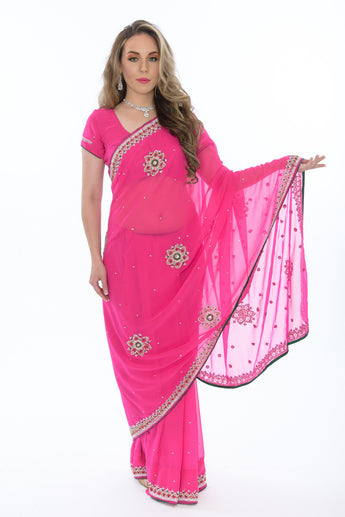 Think of Indian weddings and your mind is immediately filled with vibrant colors, fragrances and Bollywood music. The elaborate rituals and parties, the fun filled atmosphere, and the absolutely gorgeous outfits are enough to fascinate and overwhelm anyone who's not used to it! So, when you have to attend an Indian wedding, you are bound to be lost about what to wear and to which occasion? Saris and Things is here to your rescue – with perfect advice on how to dress up and look gorgeous for ...
---
The wedding and party season is approaching and you are excited. But aren't you also struggling to decide what to wear to the next event you'd love to wear a different sari to each occasion. But your closet is full of saris you've already worn before, and you really don't want to repeat them, or this is your first Indian wedding and you've never worn a sari before. We can help! Indian weddings are known for their splendor and extravagance. Before the wedding day itself, there are several ritu...
---
And here's the couple at their Sangeet ceremony, which saw mother-in-law Hema Malini take to the stage. Esha also opted for Rocky S for the event, we love the orange on her. As were Malaika and Zayed Khan. And for their Mehendi ceremony, Esha wore a design by her friend Neeta Lulla - who was also there! «» The most colourful event was Friday's temple ceremony at Isckon – here, Esha's legendary mum Hema Malini poses for the couple. ...
---