Rent Sari USA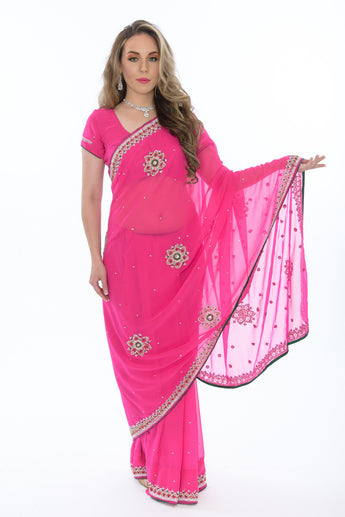 Think of Indian weddings and your mind is immediately filled with vibrant colors, fragrances and Bollywood music. The elaborate rituals and parties, the fun filled atmosphere, and the absolutely gorgeous outfits are enough to fascinate and overwhelm anyone who's not used to it! So, when you have to attend an Indian wedding, you are bound to be lost about what to wear and to which occasion? Saris and Things is here to your rescue – with perfect advice on how to dress up and look gorgeous for ...
---
You're getting married in a couple of months and are in the middle of all the preparations – your trousseau, your wedding dress, your jewelry, your make-up and so much more. And then you remember – your bridesmaids' dresses? Matching bridesmaids' dresses have become a trend in Indian weddings these days. What better way to make your girlfriends stand out on your D day, than dressing them in matching saris or lehengas that go perfectly with your wedding theme! But, where would you find the per...
---
The wedding and party season is approaching and you are excited. But aren't you also struggling to decide what to wear to the next event you'd love to wear a different sari to each occasion. But your closet is full of saris you've already worn before, and you really don't want to repeat them, or this is your first Indian wedding and you've never worn a sari before. We can help! Indian weddings are known for their splendor and extravagance. Before the wedding day itself, there are several ritu...
---
So you've been wanting to throw a colorful, musical Bollywood themed party for quite some time now, but don't know how to go about it? Worry not! We at Saris and Things love everything Indian & Bollywood – and here we'll share with you 6 simple steps to Host a fabulous Bollywood Party! Invitations Your invite must be special! So, design a special Bollywood themed invitation for your party. You can create a collage of famous Bollywood stars, or use typical Indian motifs like Henna art, Diy...
---
We are so excited!! The last couple of weeks have been super crazy. We launched our Summer Collection as well as the Menswear collection. On June 30th, we had a very successful photoshoot, thanks to our beautiful models Kruti & Karina. And the handsome Michael Moody & Manish. Here are some of my favorite pics from the shoot! Do post your comments and let us know what you like. This is one of my favorite pictures. I love the Red and Gold Sherwani and the way it matches the Peach/Orang...
---