rent sari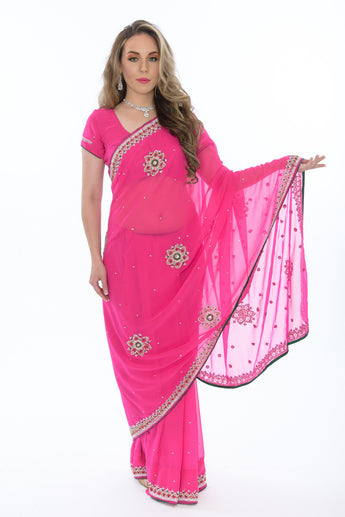 Think of Indian weddings and your mind is immediately filled with vibrant colors, fragrances and Bollywood music. The elaborate rituals and parties, the fun filled atmosphere, and the absolutely gorgeous outfits are enough to fascinate and overwhelm anyone who's not used to it! So, when you have to attend an Indian wedding, you are bound to be lost about what to wear and to which occasion? Saris and Things is here to your rescue – with perfect advice on how to dress up and look gorgeous for ...
---
Invited to an Indian wedding but don't know how to dress, what to expect or what to gift? Here's a complete lowdown on Indian wedding etiquette - to help you sail through the ceremonies and have a great time! 1. Dress & Color Code The Sari is a fabulous Indian attire that can be worn to most Indian wedding ceremonies and parties. And the best part is – it's a sensual outfit that will make you look gorgeous! You can choose saris in rich fabrics like silks or in light flowy fabrics like geo...
---
You're getting married in a couple of months and are in the middle of all the preparations – your trousseau, your wedding dress, your jewelry, your make-up and so much more. And then you remember – your bridesmaids' dresses? Matching bridesmaids' dresses have become a trend in Indian weddings these days. What better way to make your girlfriends stand out on your D day, than dressing them in matching saris or lehengas that go perfectly with your wedding theme! But, where would you find the per...
---
The wedding and party season is approaching and you are excited. But aren't you also struggling to decide what to wear to the next event you'd love to wear a different sari to each occasion. But your closet is full of saris you've already worn before, and you really don't want to repeat them, or this is your first Indian wedding and you've never worn a sari before. We can help! Indian weddings are known for their splendor and extravagance. Before the wedding day itself, there are several ritu...
---
Designer Manish Malhotra showcased his ethnic Indian collection at the curtain-raiser of the Lakme Fashion Week Winter/Festive 2013. He showcased the traditional Indian outfits that include saris, ghaghra cholis, skirts among others. The designer had used lots of pastel greens, pink, and cream along with mirror works. The substitute for ghaghra with sahara pants and fitted tops was elegant and neat. The ghaghra pants and skirts had detailed embroidery work towards the hemline. The saris and...
---
We would like to extend a big thank you to Sonia, Founder of Indian Wedding Site, who took the time out of her busy schedule to write us this review. I was so excited to finally experience the services offered by Saris and Things, one of our Featured vendors on IndianWeddingSite.com! Shital was nothing short of amazing during my experience in selecting the perfect sari. Having just had a baby and not being my normal size, it was great knowing that every selection comes with a back-up bl...
---